IMMEDIATE VISUAL FEEDBACK
IMMEDIATE VISUAL FEEDBACK
"CleanFuego has changed my career in terms of helping me learn more about myself as a pitcher. This is the most useful pitching development tool on the market. It has the potential to allow pitchers to develop their elite arsenals. I'll swear by CleanFuego until I hang up my cleats."

JOSIAH "JOJO" GRAY. Pitcher. WASHINGTON NATIONALS. 2023 MLB ALL-STAR

"I love throwing my CleanFuegos! They give me the immediate visual feedback I need, showing me whether that throw was good or bad. Perfect for developing feel for good spins, regardless of the pitch."

DEAN KREMER. Pitcher. BALTIMORE ORIOLES.

"I've used a lot of training devices over the last few years in pro ball but, for me personally, I've never noticed such immediate feedback and progress. CleanFuego is a great tool for anyone trying to have immediate results!"

DUSTIN MAY. Pitcher. LA DODGERS. 2020 World Series Champion..

"CleanFuego completely changed my perspective on throwing a baseball. Made me conscious of what my hand was doing at release, which made all my spin numbers make sense. Definitely a catalyst to creating a stupid fastball."

ANDRE JACKSON. Pitcher. PITTSBURGH PIRATES.

"I rely very heavily on the deception of my fastball. I throw it 90% of the time, so I have to have it locked in. CleanFuego helps me work on improving the spin rate and spin efficiency that I need to create the deception that makes my fastball effective. It gives you instant feedback. Didn't stay through it enough? Wobble. Didn't get good extension? Wobble. Got too rotational? Wobble. It helps me lock in the timing of my delivery and emphasize the extension and hand action that I need to make my fastball more effective. CleanFuego has helped me stay ready during quarantine and it is now an essential part of my throwing program."

SEAN DOOLITTLE. Pitcher. WASHINGTON NATIONALS. 2019 World Series Champion

"CleanFuego has helped me feel and see what true backspin is with the immediate feedback it gives during a throwing progression. It's a great tool to get immediate feedback on how your ball is spinning upon release and gives you a focus when you are playing catch. I would recommend this product to players looking to find true spin or even to those who are looking to increase their elevated fastball!"

ZACH PLESAC. Pitcher. CLEVELAND GUARDIANS.

"CleanFuego is a really good tool for immediate visual feedback for any thrower looking to improve. The combination of the 2 different weighted balls, and their unforgiving nature when a player doesn't throw it correctly, provides the immediate feedback that is necessary to help auto correct. I would highly recommend to any player trying to improve his throwing efficiency."

SCOTT BROWN. Pitching Coach. VANDERBILT UNIVERSITY.

"I've been working on my spin and CleanFuego has been a great help. I highly recommend it for training and warmup."

JESUS LUZARDO. Pitcher. MIAMI MARLINS.

"CleanFuego has been an excellent tool for our guys to bring awareness and mindfulness to each throw. In using them, I have seen my players dramatically improve fastball spin efficiency and, in some cases, even improve spin rates. This tool will be a staple in catch play for years to come."

COREY MUSCARA. Pitching Coach. WAKE FOREST UNIVERSITY.

"Since I was 12, I've been throwing dip cans and hockey pucks to work on pitches. Mainly, my change-up. I was so pumped to work with CleanFuego. Made my curveball better, keeps my change-up where it needs to be, and is a great mental check for the fastball."

DEVIN SMELTZER. Pitcher. MINNESOTA TWINS.

"CleanFuego has helped a lot of guys with their spin efficiency and also their feel. Helps you find center on the ball. All the way from our little league guys to our major leaguers we've seen really good results. We love the CleanFuego."

JON HUIZINGA. Fuel Factory Owner, Coach, Mentor, Baseball Ambassador.

"I watched my son's confidence change right before my eyes. He was throwing absolute missiles. Popping my glove just about every time. And, he looked like he was doing it effortlessly. I'm a true believer in CleanFuego and just wanted to thank you for it."

BEN SOKOLVIC Dad of 13YO
ELITE BASEBALL TRAINING TOOL
Spin efficiency. Spin direction. Pitch design. Axis. Grip.
America's game has advanced, and today's elite athletes need elite training tools.

CleanFuego is an essential training device for any baseball player looking to learn or polish pitches, ​learn to better grip and release, work out subtle changes in real-time, and so much more

Learn the proper feel and release of fastballs, curveballs, change-ups, and sliders.

CleanFuego Regulation was engineered to replicate the exact dimensions of a regulation baseball (5¼oz).

A CleanFuego Overweight (8oz), which also replicates the dimensions of a baseball, was created so players could easily work it into their weighted ball training programs.
​
Now go! Throw Clean. Throw Fuego.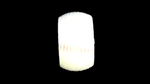 IMMEDIATE VISUAL FEEDBACK
By throwing CleanFuego, baseball players are able to receive immediate visual feedback on their throw. Improper release will cause CleanFuego to "wobble" as it flies through the air. The physics and design of CleanFuego will let players also "feel" whether the ball was properly released from your fingers.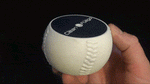 PROPER TIMING & RELEASE
Many relievers that have trained with a weighted ball program struggle to determine a good warm-up process. Spin efficiency varies from outing to outing, and CleanFuego could be the training aid to help maintain a high spin efficiency throw. Without proper timing/release, a high fastball could either become a homerun or a strikeout depending on the spin efficiency of the pitch. CleanFuego can help pitchers get their best arsenal ready before entering the game.
SPIN DIRECTION
CleanFuego is an excellent aid in helping explain complicated items such as spin direction. Teaching that a slider needs a spin direction of 9:00 to 11:00 will most likely make the player's head explode, especially at the youth and collegiate levels. Training these concepts with CleanFuego, spin direction can make sense and players and coaches both have immediate visual feedback to understand whether the release was proper.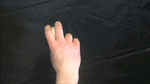 BALL GRIP

CleanFuego helps create the conversation of how a player holds the ball. Soft grip? Tight grip? Are they throwing from their fingertips? Is the seam in the first or second crease of their fingers? Which way does the horseshoe face? A player can quickly identify which grip would be most advantageous for a better throw. It's similar to adjusting golf clubs to your swing. CleanFuego can help you learn how to adjust your grip to your throw.
​
Additionally, CleanFuego has a true center of mass. This helps players find the middle of the baseball.